FORMER AEK ATHENS STAR BLASTS NIGERIAN CLUBS FOR SMS SACK
A former AEK Athen star Ifeanyi Udeze has condemned the actions of several Nigerian clubs after they cut players lose via text messages recently.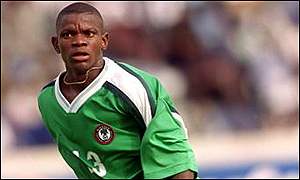 The retired Nigerian football star used to play locally at Bendel Insirance in the late 90s before he moved to Greece in the summer of '97. He also featured for PAOK Salonika and AEK Athens in his time in Europe which includede a short stint at West Brom in the early millenium.
Udeze argued that the players are human beings too
, with valid contracts that should be upheld. He added that in his experience such cannot happen in European football. He advised the club chairmen to do better.
Nigerian clubs have reportedly cut many players from their payroll in these perilous times. Analysts and pundits agreed that the situation in the country is terrible and world football is hampered. However, they also agreed that the clubs should have consulted with the players to look for the best way forward, rather than send bulk sms to the players that their services were no longer required.
There have been several cases of club chairmen not obeying covenants, paying bonuses, and delaying salaries for several months even when all was well. Even when they are dragged to the court of law, they deploy delay tactics and pray the weak arbitration system is to their advantage.
The Nigerian Football Federation (NFF) suspended all football competitions in March but with developments, the competitions would remain suspended until later in the year. This follow the actions of other sports regulatory bodies in the world in the face of the pandemic.